650-1300mm f/8-16 Manual Focus Telephoto T-Mount Lens
BowerUSA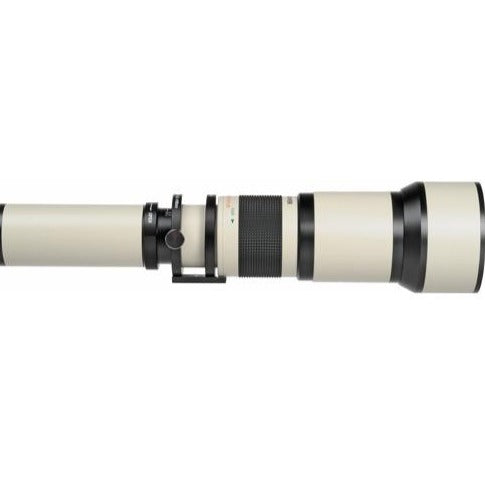 This extreme 650-1300mm f/8-16 Manual Focus Lens from Bower is an economical way to achieve some ultra-telephoto photography, all the way up to 1300mm. This is a T-mount lens, which means that aperture is not communicated to or controlled by the camera body, and as such must be used only in aperture-priority auto-exposure mode (if your camera has it) or in the manual exposure mode. There are T-mounts available for every modern DSLR system as well as for older film cameras and even C-mount cameras.
It will work on both "full frame" digital cameras as well as the smaller-format APS-C (15 x 22mm) cameras, but has only one effective aperture at any focal length, which varies from f/8 at 650mm to f/16 at 1300mm. That's not much of a hindrance, however, as you'd likely use this lens at its relatively small maximum aperture in any case.
This lens requires bright light and a high ISO setting on the camera to get a fast shutter speed (or fast film in a film camera), and needs a sturdy tripod or monopod, but can deliver very sharp results if used properly.
The lens features an incredible zoom range.
This lens has a two-touch zoom/focusing system. There is a push-pull ring for zooming, and another ring for focusing.
Multi-coated elements reduce flare and increase light transmission.
The white lens barrel helps reduce heat buildup.
The aperture is fixed-position, but only varies based on focal length.
It has a deep lens shade with matted, dark internal coloring.
The lens has a tripod mount upon its lens barrel.