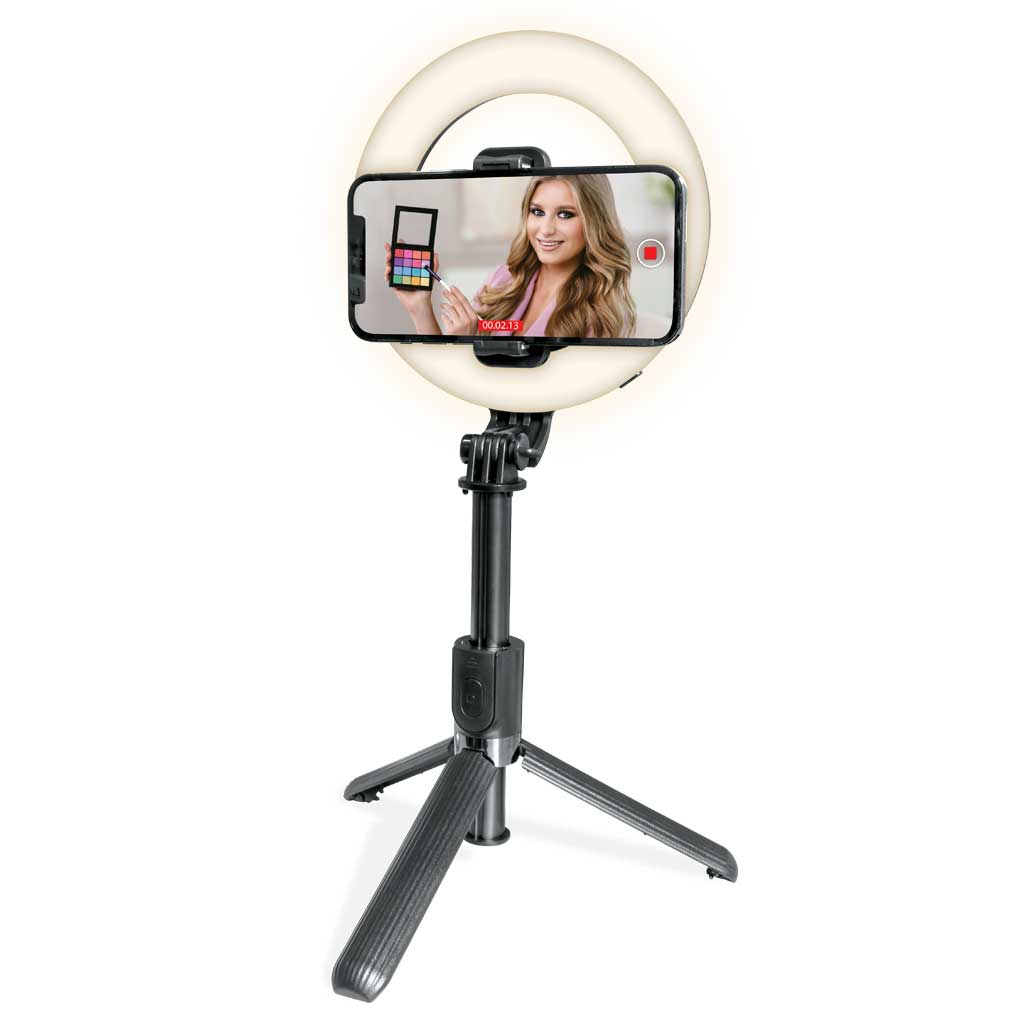 The Bower 6" Ring Light Multipod is a game-changer for content creators, vloggers, makeup artists, and photographers who demand superior lighting and adaptable mounting options. This innovative tool seamlessly combines a versatile 6" ring light with a multipod stand to provide an all-in-one solution for all your lighting and positioning needs.
Key Features:
Flawless Ring Light Illumination: The 6" ring light, with its adjustable color temperature and brightness levels, offers the perfect lighting for your videos, photos, or makeup applications. Achieve consistent and professional lighting every time.

Adjustable Color Temperature: The ring light offers color temperature adjustments from warm to cool (3000K-6000K), enabling you to create the right ambiance for your content or photography.

Dimmable Brightness Control: Easily control the brightness of the light to achieve your desired level of illumination, from a soft and subtle glow to a brilliant, studio-quality radiance.

Versatile Multipod Stand: The included multipod stand offers adjustable height and positioning, providing flexibility for various shooting angles and heights. It's perfect for table-top setups or floor-standing use.

Universal Phone Holder: The multipod comes with a phone holder that fits most smartphones, allowing you to mount your phone for hands-free use during video calls, live streaming, or content creation.

Enhanced Mobility: The ring light can be detached from the multipod stand, making it easy to transport and adapt to different shooting locations or setups.

Sturdy and Durable Construction: Built with durability in mind, the Bower Ring Light Multipod is designed to last. The tripod legs provide stability, even with extended use.

USB-Powered: The ring light is powered via USB, ensuring compatibility with various power sources such as laptops, power banks, or wall adapters for continuous operation.

Ideal for a Variety of Applications: Whether you're recording videos, capturing photos, conducting live streams, or applying makeup, the Bower Ring Light Multipod is an essential tool that delivers exceptional results.

User-Friendly and Easy Setup: Setting up the ring light and multipod is straightforward, even for beginners. Clear instructions are provided to help you get started quickly.
Elevate your content and photography with the Bower 6" Ring Light Multipod. This all-in-one solution offers professional-quality lighting and flexible mounting options, making it an indispensable tool for a wide range of creative applications. Whether you're a content creator, vlogger, makeup artist, or photographer, the Bower Ring Light Multipod empowers you to achieve stunning visuals with ease, all while providing the adaptability to suit your unique style and creative vision. Say goodbye to inconsistent lighting and hello to the quality and convenience of the Bower 6" Ring Light Multipod.