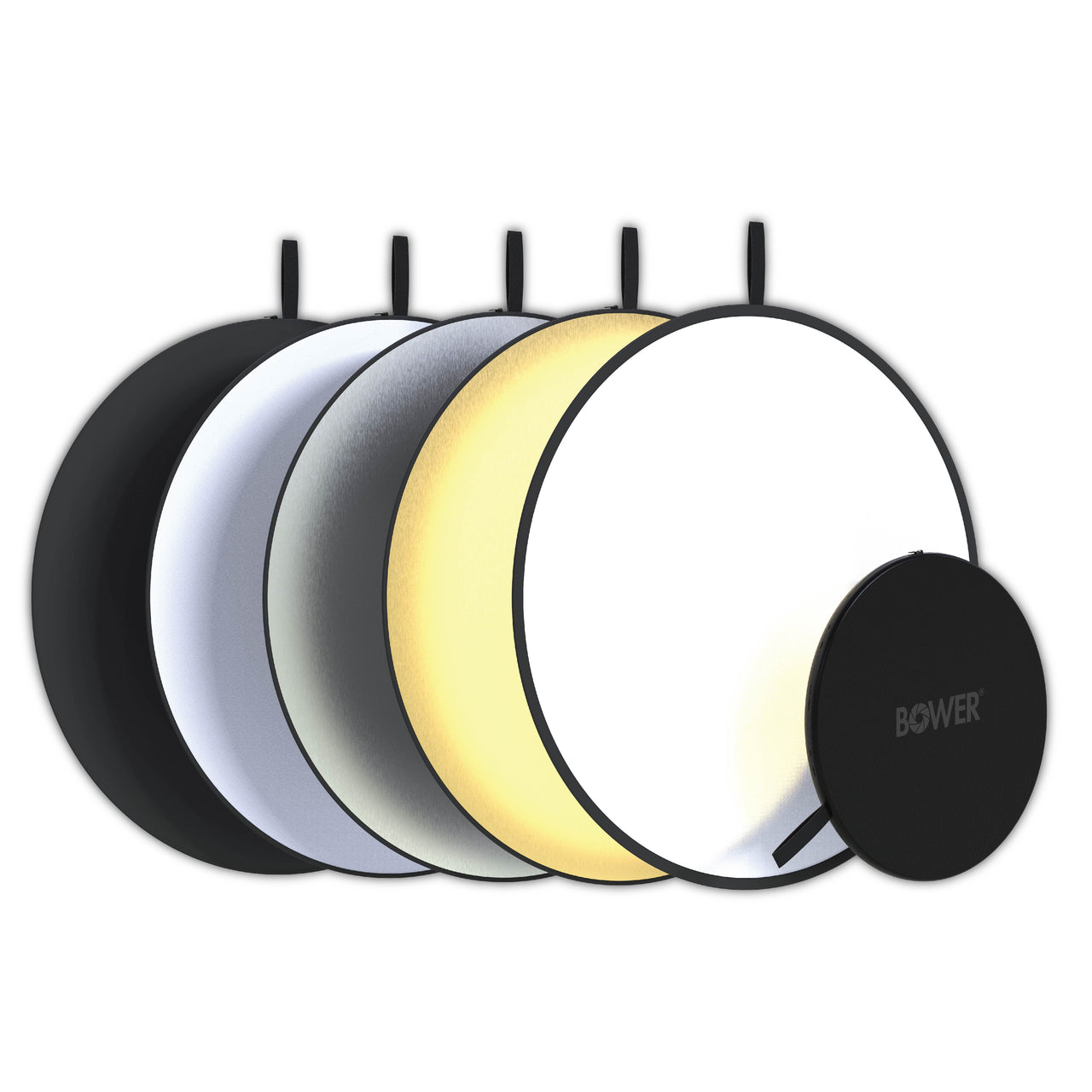 Unlock the Full Spectrum of Lighting Possibilities with the Bower 5-in-1 Reflector Kit
The Bower 5-in-1 Reflector Kit is an essential tool for photographers and videographers seeking to elevate their lighting game. This versatile kit provides you with an array of options to control and manipulate light, allowing you to achieve professional-level results in a variety of shooting scenarios.
Key Features:
Five Reflectors in One: This kit includes a multi-panel reflector with five reversible covers, each offering a different reflective surface. Choose from white, silver, gold, black, and translucent to achieve various lighting effects, from soft and diffused to bright and contrasted.

Flexible Light Control: Whether you're shooting portraits, outdoor scenes, or product photography, this kit enables precise light control. Use the white reflector for soft fill light, the silver for crisp highlights, the gold for warming effects, the black to block or subtract light, and the translucent to diffuse and soften harsh light.

Collapsible and Portable: The reflector panels are foldable, making this kit incredibly portable and easy to transport. It's perfect for on-location shoots, both indoors and outdoors.

Durable and High-Quality: Crafted with high-quality materials, these reflectors are built to withstand frequent use. The double-stitched edging ensures durability and longevity, so you can rely on them for years to come.

Easy Handling: Each panel includes comfortable grips for effortless manipulation. Adjusting the angle and position of the reflectors is a breeze, allowing you to fine-tune your lighting with precision.

Versatile Applications: From portrait photography to product shots, fashion photography to outdoor landscapes, this 5-in-1 reflector kit is an indispensable tool for photographers, videographers, and content creators across a wide range of creative disciplines.

User-Friendly Setup: Whether you're a seasoned professional or a novice, the Bower 5-in-1 Reflector Kit is easy to set up and use. It comes with clear instructions to help you maximize its potential.

Enhanced Image Quality: Elevate your photography with well-balanced, controlled lighting. This reflector kit allows you to produce images and videos that showcase depth, detail, and vibrant colors.
For photographers and videographers who demand versatility and exceptional image quality, the Bower 5-in-1 Reflector Kit is an indispensable accessory. From enhancing natural light to creating stunning visual effects, this kit empowers you to shape light precisely according to your vision, ultimately taking your photography to the next level. Whether you're a professional or enthusiast, the Bower 5-in-1 Reflector Kit is your secret weapon for achieving breathtaking and visually compelling results in any shooting scenario.